The Infinity Sleep Support System is a revolution in premium coil count mattress spring unit manufacturing. Little surprise really, as it can offer a significant 45% reduction in continuous wire unit manufacturing costs and an amazing 60% reduction on spring units purchased from external sources. It doesn't matter if you're using LFK Spring Units, Bonnell Spring Units or Pocket Spring Units Infinity will reduce your unit manufacturing cost by a minimum of 30%.
This is why an increasing number of mattress spring unit manufacturers throughout the world are taking advantage of the low production costs, excellent productivity and premium mattress spring units options which Infinity offers.
Our unique system of Micro Gauge Wire Technology produces a remarkable spring unit that combines excellent durability and body conformity characteristics.Excellent, you might say, but how is the Infinity unit produced? It's a process achieved in two stages, with the production of the coil first, followed by assembly of the final unit. Simple, but effective. Both of these high quality patented systems have been designed to offer flexible production with high levels of reliability.
Savings
The Infinity Sleep Support System sets a new industry standard formula for premium spring unit production, thanks to our Micro Wire Gauge Technology.
Every Infinity unit has a high concentration of coils with a significant reduction in material content, whilst enhancing unit firmness and support.
INFINITE ADVANTAGES
45% Saving on Materials
150% More Coils
25% Taller Unit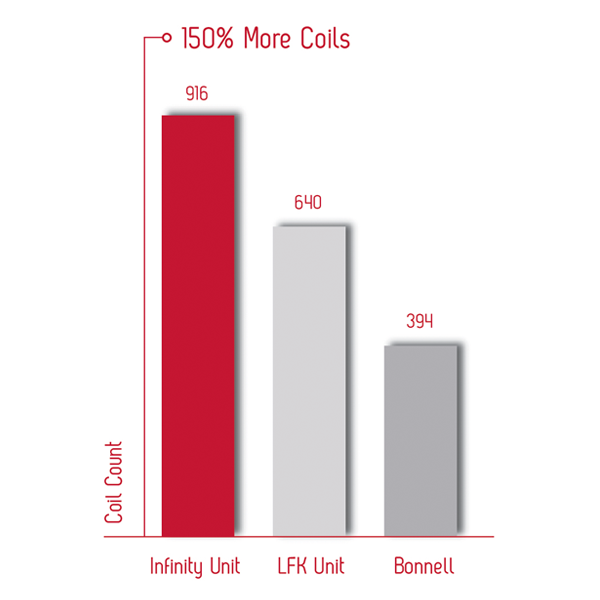 Head to Toe
The Infinity Head To Toe configuration offers two independent levels of firmness and comfort tailored to independent sleepers. Head To Toe options also avoid the need for zip and link products.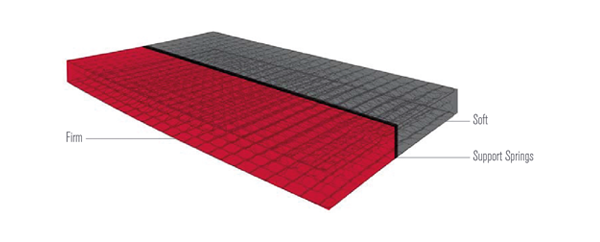 Shoulder to Shoulder
Areas of the Infinity Spring Unit are zoned to offer the correct levels of support over the length of the mattress, ensuring a perfect sleep posture is maintained. Product comfort and pressure relief is further enhanced with up to seven zoning possibilities.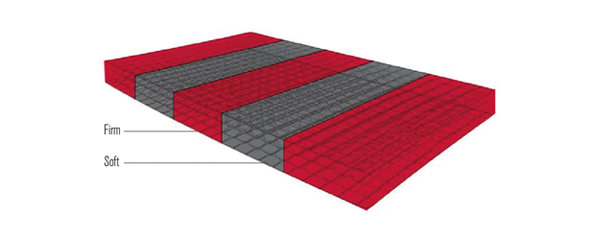 Perimeter Edge Zone
Perimeter edge support gives a firm edge feel to the mattress and helps to reduce perimeter sagging of the mattress. A further advantage is a reduction of edge roll during sleep.